When you think about renting a car in Crete, what comes to your mind? Do you wonder if there will be any reliable service providers in the region? Or, are you worried that Crete would turn you down, in terms of affordability and safety? If yes, think again! Over the past few years, we have evolved into one of the town's finest car rental service providers. We understand why people want to Hire Car In Crete. Hence, our team has put together a wonderful collection of packages that can make your journey inspiring and extremely comfortable!
Below are few reasons why our hire a car in Crete service must be your go to choice. We are going to take you through the ABCs of our service:
Affordability
Hire a Car in Crete has become much more affordable than ever. Time after time, we have identified the needs of our travellers. This has helped our in-house specialists frame and customize packages that often meet the needs and expectations of the travellers. Whether it is an airport pickup, or a long drive; you will find some of the most sensible and affordable options under our roof!

Business-Class
Our brand rose to fame for its wide collection of cars. Indeed, we have every type of vehicle you would want for a luxurious trip; right from SUVs to sedans to amazing RV, you have a wide range of options to choose From! Regardless of the vehicle you pick, our company promises cleanliness, comfort and style. We often handle many business class travellers. And, most of them are returning clients. Why? We have reached the epitome of perfection, especially with our cars. And, when you want to go on long drives, you will be given two drivers. The main and secondary driver will ensure utmost safety, end promptness during the trip.
Comprehensive Care
The moment you choose our rent a car in Crete services, you will be stepping into a world where everything will be taken care for you. To begin with, you will receive comprehensive insurance throughout the trip. And, you don't need to spend a penny for this add-on service. The fuel offered for the ride will also be free.
What more, every client is given unlimited fuel for their journey. We as a company make this possible by determining a "perfect" quote for the trip. This quote will be shared with all clients, before their ride begins. If you opt for early bird offers, and book ahead of schedule; you will receive many more deals and discounts!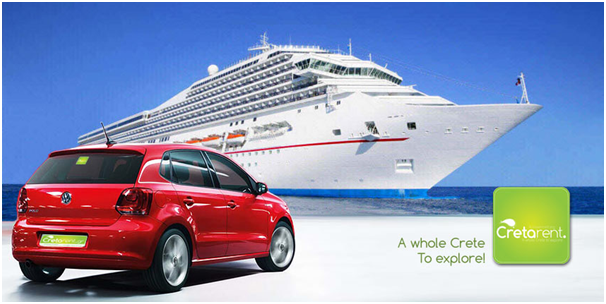 Deals and Discounts
As mentioned above, deals and discounts are in abundance at our Hire A Car Crete service. Clients who stick to our services, will get to enjoy these returning benefits!
Our book now or pay on arrival facility will let you explore and discover Crete in style without putting any load on your pockets. Checkout all the different models, colours, sizes and makes of car we offer with info about features.
If you find a car you like, just hit Book It Now button and we'll take care of the rest.